Susan G. Quisenberry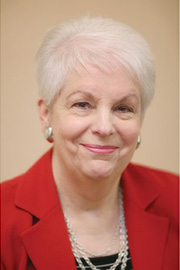 Susan G. Quisenberry retired in 2015 as an IT consultant with Quisenberry & Warren Ltd., a management-consulting firm specializing in information technology management. Prior to Quisenberry & Warren, she was vice president of information systems for Lawyers Title Insurance Company and vice president of affiliate systems support at SEC Computer Company.
She served as the first president of the University of Richmond Alumni Association, formed in 2003 by the merger of three of the University's alumni associations. She received the Trustees' Distinguished Service Award in 1999 and the University's Alumni Award for Distinguished Service in 2006.
Quisenberry earned a B.S. from the University of Richmond and is a member of Omicron Delta Kappa. She served on the University of Richmond Board of Trustees as an alumna representative from 1997 to 2000 and as a trustee from 2001 to 2009, serving as vice rector from 2006 to 2009. After returning to the board in 2013, she served again as vice rector from 2019 until the completion of her term in 2022, when she was awarded emerita status.