From the Dean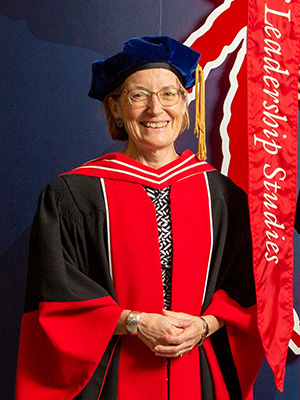 Just over two weeks after Commencement, we are still riding the high of a wonderful academic year. Wonderful in so many ways, not the least of which was the April 8 inauguration of Kevin F. Hallock as the 11th president of the University of Richmond. What a pleasure it was to celebrate this momentous occasion with Jepson School benefactor and Richmond alumnus Robert S. Jepson Jr., pictured with me above, who gave remarks at the inauguration.
Faculty, staff, and students alike were thrilled to participate in person once again in many of the School's annual events, including three much-anticipated spring events. At Senior Banquet on April 6, our seniors reminisced fondly about their undergraduate years. Eighteen students presented an impressive array of research, including eight honors theses, at the Jepson Research Symposium on April 22. Beloved leadership studies professor Don Forsyth, who will retire this June, kept members of the Jepson School Class of 2022 laughing during his humorous address at Finale, our year-end program, on May 7.
The next day, we celebrated again at Commencement as 91 leadership studies seniors (77 majors and 14 minors) graduated and swelled the ranks of Jepson alumni to almost 1,900 worldwide. Among our graduates were two who will pursue master's degree programs at the University of Oxford as Jepson Scholars this fall. 
Not surprisingly, our dedicated alumni have played a big role in making this year so successful. In this issue of the Jepson Update, you can read about their generosity to the School during Richmond's annual UR Here Giving Day, the University's upcoming Reunion Weekend (we hope you will join us June 3 - 5!), several of our accomplished alumni, and much more. 
Thank you for being a part of our Jepson family and for everything you do to contribute to the success of the Jepson School. This fall, we will mark the School's 30th anniversary and celebrate its impact on higher education. 
With my sincere thanks and best wishes,
Sandra J. Peart
Dean and E. Claiborne Robins Distinguished Professor in Leadership Studies
President, Jepson Scholars Foundation
Reunion Weekend
We invite you to join us June 3 - 5 for University of Richmond's Reunion Weekend. Events are open to all alumni, with a special focus on reunion classes ending in '2 and '7. As part of Reunion Weekend festivities, the Jepson School will bestow our Alumni Award on a leadership studies alum who graduated at least 20 years ago and our Tenth-Year Reunion Recognition Award on an alum who graduated in 2012.  
Alum's colorful career leads to leadership role at Sherwin-Williams
Heidi Petz, a 1997 Jepson School of Leadership Studies grad, became president and chief operating officer of the Sherwin-Williams Co. in March. She is less interested in the title and instead is galvanized running and fine-tuning a business — understanding the levers, the profit and loss, consumer psychology, corporate culture, and team engagement.
JEPSON Talks
The Jepson Alumni Corps is pleased to announce JEPSON Talks, an online series that will showcase past and present Jepson faculty sharing their research and expertise. Please join us at 7 p.m. EDT, Thursday, May 26, for the first JEPSON Talks event, featuring Dr. Gill Hickman, professor of leadership studies emerita, and Dr. Crystal Hoyt, professor of leadership studies and psychology and Jepson School associate dean for academic affairs.  
They will discuss Jepson then and now, their relationship as colleagues and friends, mentorship, the ways in which they brought their respective disciplines in public administration and psychology to bear on the same courses, and much more.  
Alumnus connects national identities to policy
Whether reviewing the latest research at the office or listening to a radio broadcast while taking a shower at midnight, Griffin Trau, '18, is always on the lookout for breaking news and shifts in public sentiment on the pandemic. A strategy analyst and policy lead in government and public services at Deloitte Consulting, he works on policy and briefings at the highest levels of the federal response to the COVID-19 pandemic.
UR Here Giving Day a great success
The Jepson School enjoyed a highly successful UR Here Giving Day, raising $146,405 in a 36-hour period April 6 -7 during University of Richmond's fourth annual day of fundraising. Thanks to the generous matching gifts provided by Jepson's Executive Board of Advisors and an anonymous alumna and the many contributions made by our alumni and friends, we increased the amount we raised by 58 percent. We also doubled the number of donors (158) from the previous year (78). 
The funds raised will support student research, experiential learning, and diversity, equity, inclusion, and belonging (DEIB) initiatives at the School. Many thanks to all those who gave to Jepson during #URHere! 
Two Jepson Scholars to pursue graduate degrees at Oxford
T
wo members of the Class of 2022 will attend graduate school at the University of Oxford as Jepson Scholars this fall. Ally Osterberg will pursue a Master of Science in Latin American Studies, Benjamin Weiser a Master of Public Policy. Their scholarships, funded by the Jepson Scholars Foundation, covers room, board, tuition, and fees. 
Class of 2022 Commencement
Resources
Contact Us
Jepson School of Leadership Studies
221 Richmond Way
University of Richmond, VA 23173
General Information:
Phone: (804) 289-8008
Fax: (804) 287-6062
Email: jepson@richmond.edu