From the Dean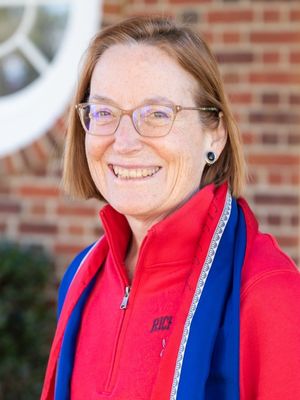 Our 30th anniversary year is flying by, with only a week remaining before spring break begins. Just last week, we wrapped up our 2022-23 Jepson Leadership Forum with a lively presentation by economist Alex Tabarrok on the failures and successes of U.S. COVID-19 policy. Videos of four of this year's five Forum presentations, which focused on lessons learned from leadership failures, are now online.
Our faculty have been busy publishing articles and chapters in academic journals and books. Many also share their scholarship with a general audience through mainstream media outlets. Just this month, two faculty articles—one by Dr. Julian Hayter on voting rights and one by Dr. Al Goethals on presidential rankings—appeared in the online news platform The Conversation and were subsequently picked up by Yahoo! News and other media.
Our students are excelling as well. Recently, three leadership studies undergraduates and a 2021 leadership studies graduate were among 10 Spiders named Fulbright semi-finalists.
This past Sunday, the Jepson Alumni Center buzzed with excitement and energy as many of our graduates shared their professional expertise with our juniors during our annual Jepson EDGE Institute, the School's professional development program. On Monday, many alumni also attended the Jepson Alumni Corps meeting, where we discussed student recruitment and mentoring efforts, and the Executive Board of Advisors meeting, where we discussed the success of the School's profile-raising campaign, among other things.
I hope to see many more of you June 2-4 during the University of Richmond Reunion Weekend. Consider nominating a member of the Jepson Class of 2013 for the Tenth-Year Reunion Recognition Award or a leadership studies classmate who graduated at least 20 years ago for the Alumni Award.
Also, please consider showing your Jepson love by donating to the School during the annual UR Here Giving Day, April 4-5. I am deeply grateful for all you do to support the School with your gifts of time, talent, and money. Together, we are #LeadingTheWay!
Please stay in touch and enjoy this latest issue of the Jepson Update!
Best wishes,
Sandra J. Peart
Dean and E. Claiborne Robins Distinguished Professor in Leadership Studies
President, Jepson Scholars Foundation
Jepson at 30: Looking back and moving forward
At the University of Richmond's 1987 commencement, alumnus Robert S. Jepson Jr. and his wife, Alice Andrews Jepson, offered the University a $20 million challenge gift to create a leadership studies program and an academic building to house it. Their vision became a reality on Sept. 9, 1992, with the inauguration of the nation's first undergraduate school of leadership studies.
Overcoming the challenges of market uncertainty
Keep the client at the center. This guiding principle has served Paul Jakubowski, '00, well in almost 23 years at Vanguard. Never more so than during the past year of market volatility, says the Vanguard principal and head of Financial Planning and Analysis and Strategic Services. 
Meet Dr. Bo Yun Park
Get to know the Jepson School's new assistant professor of leadership studies and sociology, Dr. Bo Yun Park. She grew up in Paris and now studies culture and politics, often in a comparative international context. 
One part data, one part art
As chief economist for the U.S. Chamber of Commerce, leadership studies alumnus Curtis Dubay, '02, is keeping his eyes on the economic impact of COVID-19 and the evolving labor market. 
Jepson at Cambridge
After a two-year pandemic-induced hiatus, the popular Jepson at Cambridge Program returned in summer 2022. Nine undergraduates joined 11 law school students to study comparative U.K.-U.S. law at the University of Cambridge and immerse themselves in British culture. 
Leader-in-Residence and Scholar-for-the-Day to give public lectures
Join us on March 14 for Jepson School Leader-in-Residence Philip S. "Sam" Deloria's presentation on an Indigenous view of institutional racism and on March 16 for McDowell Institute Scholar-for-the-Day Roosevelt Montás' presentation on the relevance of Western Civilization's great books.
Get your Jepson swag today!
You asked, and we heard you. Jepson swag is now available for purchase online. Buy some for yourself and for your Jepson friends and family members. Nothing says Jepson love like Jepson swag! 
Jepson EDGE Institute
Leadership studies alumni planned and led the 2023 Jepson EDGE Institute, the Jepson School's annual professional development program for juniors.

Held in the Jepson Alumni Center on Feb. 19, EDGE kicked off with a breakfast reception.

Dean Sandra J. Peart welcomed everyone to EDGE.

EDGE co-chairs Benedict Roemer, '19, and Erin Dunstan Price, '17, gave the opening remarks.

Students attended three professional development sessions between noon and 3:30 p.m.

Joseph Greener, '13, makes a point during the the Making the Most of Your Internship session.

Matt Reinaker, '02, co-led the session Refining and Practicing Your Elevator Pitch.

A panel of alumni present the Many Paths, Many Ways session.

Students had the opportunity to connect one-on-one with alumni during speed networking later in the afternoon, before ending the day with an evening reception.

Thanks to all our alumni who planned EDGE and to those who traveled from near and far to implement the program. It was a great success!

Leadership studies alumni planned and led the 2023 Jepson EDGE Institute, the Jepson School's annual professional development program for juniors.
Resources
Contact Us
Jepson School of Leadership Studies
221 Richmond Way
University of Richmond, VA 23173
General Information:
Phone: (804) 289-8008
Fax: (804) 287-6062
Email: jepson@richmond.edu