From the Dean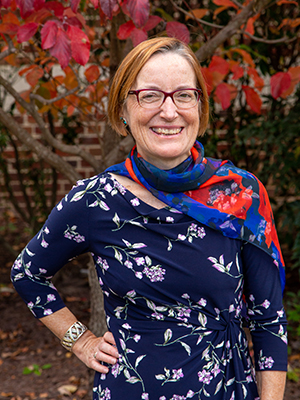 We're back! After 17 months of relative pandemic-imposed quiet and social distancing, Jepson Hall is once again abuzz with students attending classes, holding meetings, and studying in their favorite armchairs. Gone are the hybrid-teaching classrooms, replaced with fully in-person classes and advising sessions. The hum of conversation in the hallways is music to our ears.
Several events have marked our return to some kind of normalcy: In early September, students thronged to the Jepson Student Government Association celebratory welcome-back dinner in Stern Plaza. After a yearlong hiatus, the School resumed its signature Jepson Leadership Forum, which this year focuses on the timely theme "Moving People: The Perils and Promise of Nationalism."  This past weekend, the University welcomed alumni, friends, and family to campus for Homecoming weekend.  
Perhaps no event captured our shared exuberance so well as the Class of 2020 Commencement weekend celebration Sept. 18-19, depicted in the photo at the top of this newsletter. After delaying their graduation festivities for a year and a half, Class of 2020 members joyfully reunited with friends and professors. The Jepson School shone bright at Commencement: Dan Mahoney, '20, recipient of the Mace Award as the University's most outstanding student, led the processional and recessional; Lina Tori Jan, '20, received a standing ovation for her inspiring address as the class speaker; and associate professor of leadership studies Julian Hayter shared remarks as the faculty speaker.  
To learn more about Jepson School goings-on, I invite you to read this issue of the Jepson Update, which includes stories about the life and legacy of beloved leadership studies professor Gary L. McDowell, the much-anticipated launch of the School's branding campaign, and some of our many accomplished alumni.
Thank you for your ongoing engagement with, and support of, the Jepson School. You are an integral part of our success.
Best wishes,

Sandra J. Peart
Dean and E. Claiborne Robins Distinguished Professor in Leadership Studies
President, Jepson Scholars Foundation
McDowell Institute honors its namesake's legacy
The Jepson School lost a beloved member of its family this August with the passing of Gary L. McDowell, renowned constitutional scholar and professor emeritus of leadership studies. His legacy lives on through the Gary L. McDowell Institute, which engages diverse ideological perspectives in debating important questions in ethics, law, and politics. 
Working to help others work
Goodwill VP Kimberly Bowers Rollins, '05, raises funds to support workforce development for people with challenges to employment—an undertaking that became increasingly critical during the pandemic.
Jepson School ascendant
With thanks to the generous financial support of alumni and friends, the Jepson School launched its much-anticipated branding campaign in September with a simple, direct message: Jepson equates to leadership.  
Fighting to end modern-day slavery
Andrew Wasuwongse, '06, International Justice Mission field director in Thailand, is leading efforts to combat human trafficking in the Thai fishing industry. 
Jepson events: Food for thought
After a yearlong, pandemic-induced hiatus from one of its most popular programs, the Jepson School enthusiastically embraces the return of the Jepson Leadership Forum. Please join us for the 2021-2022 Forum, "Moving People: The Perils and Promise of Nationalism," which considers the moral, ethical, and legal implications of global migration and asylum. 
Join us also for other upcoming events, including the Nov. 10 documentary film screening and panel discussion of "How the Monuments Came Down," the Nov. 12 McDowell Institute lecture "Liberal States, Authoritarian Families," and the Nov. 18 lecture on "Black Digital Expertise as American Technoculture."
Cultivating honest conversations in the workplace
Capital One VP Raegan Williams Morris, '99, promotes a healthy company culture and leadership development through open, honest dialoguge.
Class of 2020 Reception & Commencement, Sept. 18-19, 2021
Resources
Contact Us
Jepson School of Leadership Studies
221 Richmond Way
University of Richmond, VA 23173
General Information:
Phone: (804) 289-8008
Fax: (804) 287-6062
Email: jepson@richmond.edu