---

Reflecting on an Extraordinary Year at Jepson

As we reflect on all that we have been able to do at the Jepson School this year we must keep in mind that this has been a defining moment in history. This extraordinary year underscores the ongoing need for for a School that teaches for and about leadership. (more)



Jepson School Brings Leading Economists, Diplomats to Campus to Discuss Challenges Facing the Country

Some of the nation's leading economists, diplomats and scholars came to Jepson this spring to confer and present lectures on the nation's current economic, political and social challenges. (more)

Jepson Appoints New Associate Dean for Student and External Affairs
Kerstin M. Soderlund, dean of students at Longwood University, has been selected as the new associate dean for student and external affairs. She will join the School on Aug. 10, succeeding Teresa J. Williams. (more)




At Jepson's Summer Institute, Scholars Discuss Financial Crises, Historically Considered

Scholars from across the country and Europe joined conference co-chair Sandra J. Peart for the opening of the 10th annual Summer Institute for the Preservation of the History of Economics. (more)

Upcoming Events Focus on the Common Good, Include Strategic Leadership and Social Media Conference

A group of communications professionals as well as experts in nonprofits and leadership has designed a conference for community leaders on "Strategic Leadership and Social Media for Social Good" to be held Friday, July 24. See (more) upcoming events.

Internship Fund Amasses Pledges That Will Support Students

In 2009, the Alumni Networking Committee established the Jepson Internship Fund, which will pay a living stipend to a Jepson student doing an internship in the government or nonprofit sector. To date, a number of alumni and 100 percent of Jepson faculty and staff have pledged a gift to the new fund. Contributions accepted until Dec. 31. (more)
---

Peart Named to LEAD VIRGINIA Board of Directors
Dean Sandra J. Peart has joined the board of directors of LEAD VIRGINIA. The Jepson School helped found the statewide leadership education program and develop its curriculum and approach. (more)


Faculty Provide Commentary for Diverse Local and National Publications
Jepson faculty members have written on diverse topics this spring ranging from suburbia to President Barack Obama's inauguration to the leadership of General Motors for publications such as The Washington Post, the Richmond Times-Dispatch and American Thinker. (more)

---

Students Search for Real-World Solutions to Global Problems
Jepson students want to change the world. Thanks to their research this year on topics ranging from gender biases to global poverty, they just might succeed.
(more)


Activist Student Takes Reins of Student Government
Once Steve Handy gets interested in something, he commits and gives his all. Take horses, for instance. (more)





Richmond, Washington, Charlottesville and Jepson Hall Are Learning Laboratories for Jepson-Athens Students
Leadership and democracy were themes of the inaugural Jepson-Athens Leadership Academy, which brought high school students from Greece to the States for study trips and classroom discussions June 27-July 12. (more)

Alumni News
---

Jepson Honors Three Alumni at Reunion Weekend
The Jepson School celebrated the 15th anniversary of its first graduating class with a Reunion Weekend gathering on campus. The celebration honored three alumni - Ben Wallerstein, '99, Greg Efthimiou, '99, and Jonathan Zur, '03, - for the work they do in their communities. (more)

Alumni Share Advice, Encourage Students to Address Global Challenges
Jepson alumni are dedicated to giving back - to their communities, to their places of work and to the University. A record number of alumni returned to campus this spring to share advice and offer encouragement to students. (more)


University of Richmond Names Jepson Alumna Kimberly Bowers Dale as Major Gifts Officer for Law School
Kimberly Bowers Dale, director of gubernatorial appointments for Virginia Gov. Tim Kaine, has been named major gifts officer for the University of Richmond School of Law. (more)
---
Stories of Service: Alumni Project a Success
As part of the 150 Days in a Lifetime of Service campaign that marked the 15th anniversary of the School's first graduating class, these stories showcase Jepson students' and graduates' activities and thinking about civic engagement. (more)

Jepson Alumni Featured in Richmond Magazine
For Aaron Graham, '02, Rebecca Condon, '07, Tara Sulzen, '07, and Samuel Kaufman, '99, modeling leadership and doing community service is all part of the job. And they wouldn't have it any other way. (more)


Photo Finish
---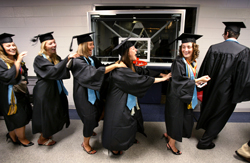 Leadership studies major Laura Musser leads the conga line as students prepare to enter the Robins Center.
Photo courtesy of the Richmond Times-Dispatch.


Jepson blog
Update alumni information
Follow Jepson on Twitter
Join Jepson on Facebook
Find Jepson on LinkedIn

---
For the latest UR Alumni Association news including regional events, visit www.uronline.net. If you have
questions or comments about any of these articles, contact ttripp@richmond.edu.