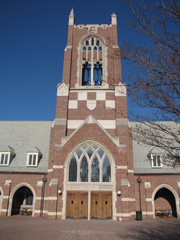 Jepson School News
Faculty Spotlight
Student Spotlight
Alumni News
Alumni Spotlight
---

Dean's Update: Reflecting on an Extraordinary Moment in History and Wishing You Well

Dean Sandra J. Peart discusses the leadership challenges facing the country in light of recent historic economic and political events and how the Jepson School is endeavoring to meet those challenges. Article



Jepson School to be Home to John Marshall International Center for the Study of Statesmanship

The new center will approach the study and practice of statesmanship through a program that will combine scholarly and practical attention to constitutionalism, political economy, politics and ethical reasoning. Article

Faculty and Alumni Present Research, Awards at Global Conference

Jonathan Zur, '03, and Joshua Walker, '03, were among the 17 faculty, staff and alumni who presented papers and attended the International Leadership Association's Tenth Annual Global Conference in Los Angeles. Article


Jepson in the News: Actors Talk Politics in Jepson Class

"Fresh Prince of Bel Air" actress Tatyana Ali, Marlon Wayans and Jurnee Smollett visited Professor Karen Zivi's Justice and Civil Society class this fall to encourage students to vote and get involved in the political process. Article


Ayers' Forum Talk Showcases Digital History Project

During his talk on "What Lincoln Was Up Against: The Context of Leadership," University of Richmond President Edward L. Ayers referenced Richmond's new Digital Scholarship Lab and Voting America, a project of the lab. Article


Upcoming Events

Upcoming events include the Jepson Leadership Forum and reunion weekend events in March. Article

---

Hicks to Discuss New Book on Leadership in a Devout and Diverse America at the Library of Virginia
Douglas A. Hicks will discuss his new book, With God on All Sides: Leadership in a Devout and Diverse America, on Jan. 6. A reception and book signing will follow. Article


New Book by Price Explores How Leaders Explain Themselves When they Break the Rules
In his new book Leadership Ethics: An Introduction, Terry L. Price uses moral theory to explore the justifications provided by leaders who break the moral rules. Article


Ciulla Edits Three-Volume Set that Explores Leadership from the Perspectives of Psychology, Politics and the Humanities
A new three-volume set edited by Joanne B. Ciulla draws on multiple disciplines in the liberal arts to take a wide-angled view of leadership. Article

---

Class of 2011 Begins Jepson Journey at Prelude

Jepson welcomed the class of 2011 at Prelude in November. New faculty member Peter I. Kaufman delivered the address. "I want to be with students for whom bronze and silver won't do," Kaufman told the incoming class. Article


Alice McAlexander, '10, Spends Semester Working for the Obama Campaign
Alice McAlexander never envisioned a career in politics. But after taking the semester off to work as a field organizer in Virginia for the Obama campaign, she is starting to think it might be time to reconsider. Article


International and Study Abroad Students, Scholars Share Global Perspectives About Presidential Election
At a community conversation sponsored in part by the Jepson School, students and visiting scholars discussed how the world views the U.S. presidential election. Article

---

Alumna Discusses the Value of a Jepson Degree and Encourages Students to Get Involved
Emily Griffey, '01, returned to campus this fall to talk to students about life after Jepson and offer advice. Article. Speed networking article.




Alumni, Students Get Involved in 150 Days in a Lifetime of Service Project
Jepson alumni and students are giving back to their communities through volunteering, organizing and caring for others. Article




Nominations Invited for Tenth Year Reunion Recognition Awards
Nominees will be chosen for significant achievement or community service. The deadline for nominations is Jan. 30, 2009. Article


Alumni Spotlight: Leading the Company
---
CEO Thrives on the Challenges of Corporate Leadership
Matt Zemon, '94, always knew that he wanted a career in business. Since graduating he has led companies in the entertainment, hospitality and telecommunications industries - and credits Jepson with giving him the skills to succeed. Article

On the Fast Track: Alumna's Company Leads the Competition
Jennifer Johnson, '97, had no idea that one day she would be leading an award-wining company. But as the owner of 3Sports and 3Sports Running Company, specialty stores in the Richmond area, the triathlete is sprinting past her competition. Article
---
For the latest UR Alumni Association news including regional events, visit www.uronline.net. If you have questions or comments about any of these articles, contact ttripp@richmond.edu.