From the Dean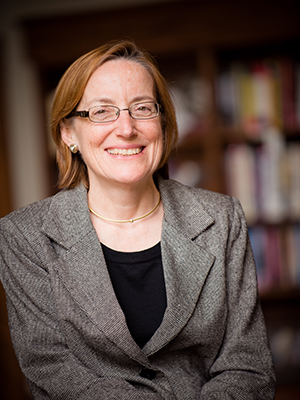 The orange and yellow hues spreading through the trees outside my Jepson Hall office window mark the passing of the midpoint of the fall semester. It is a good time to pause and thank all those who have contributed to the success of our residential semester thus far: the Jepson faculty and staff who implemented a hybrid teaching model that reaches our students in person and remotely; the faculty, staff, and students committed to protecting all Spiders by following University of Richmond COVID-19 protocols; and our alumni who faithfully share their time and resources. I am truly grateful.
We have much to celebrate this semester. The Gary L. McDowell Institute continues the John Marshall Center legacy of exploring democratic thought and governance. Our new assistant professors, Olga Chykina and Lauren Henley, bring their respective expertise on educational inequalities and the history of violent crime in America to our interdisciplinary study of leadership. In July, our inaugural Jepson Scholar completed her University of Oxford master's degree with distinction.
Our robust programming—including an alumni-led discussion of leadership during times of crisis, a Marshall Center webinar on Frederick Douglass' leadership, and our Leader-in-Residence brown bag on racial equity in K-12 education—has engaged people on and off campus. More than 300 people registered to attend our October book launch and discussion on how we can reimagine and reinvigorate our democracy.
You'll find all this news and more in this issue of The Jepson Update. Thank you for being caring, contributing members of our vibrant, intellectually curious community. Best wishes to you and your loved ones for a healthy, fruitful fall.
Sincerely,
Sandra J. Peart
Dean and E. Claiborne Robins Distinguished Professor in Leadership Studies
President, Jepson Scholars Program